1:56 pm
[saurophaganax]

Looking for something to do tonight before heading out to the bars?
8pm tonight
@ One Hour Gallery
2331 Elmwood Ave.
Selected works by L. Tebo and J. Weixelbaum
Free food, a performance by local surf klezmer band
Dimetrodon
, and beer and wine at the bar!
Please come and support local artists! :]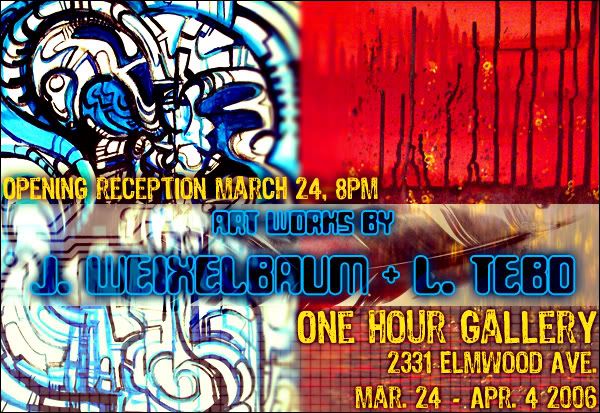 x-posted to
buffalo_dorks
Current Mood:
bouncy
11:27 pm
[aldric_stien]

Meeting
I just posted this in the Myspace group,
http://groups.myspace.com/buffart
,
I'm looking to get a group meeting started. Let me know what times people are free. Bring ideas. Making a movie is one from the myspace boards. Lets get this thing started!